South Asian Journal of Management Sciences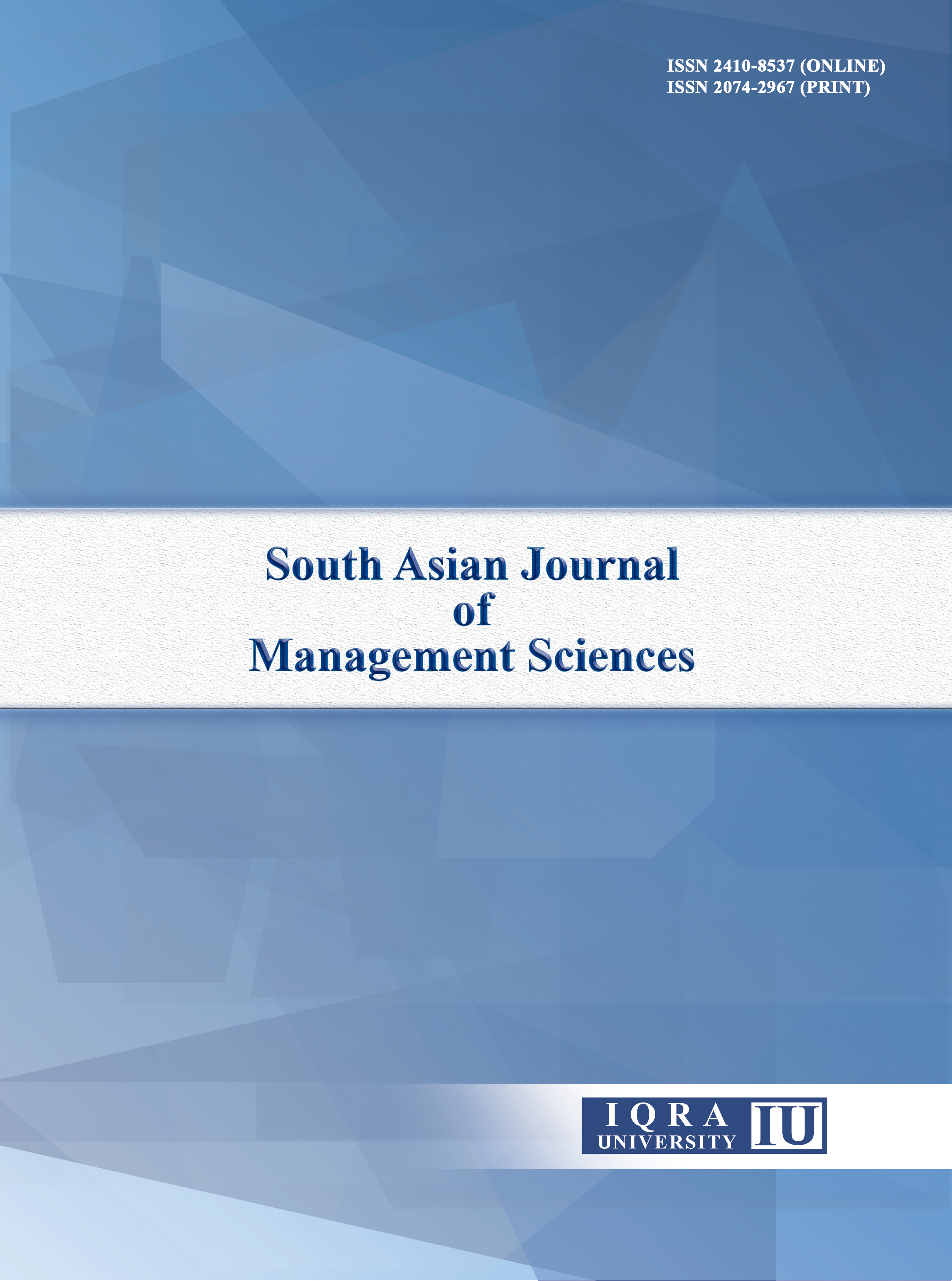 AIM: The South Asian Journal of Management Sciences (SAJMS) is a blind peer-refereed journal published bi-annually by Iqra University Research Center (IURC).The journal recognizes the growing involvement of regional issues in management sciences within the larger context of globalization and international business arena. It, therefore, aims to provide an opportunity and a forum to communicate relevant and current issues in the area of business management and its allied sciences, including emerging trends and their application to and implication for the global business community. The papers which are invited are based on Original Article, Invited Review, Short Report, and Case Study. The papers/articles submitted are reviewed by the anonymous reviewers of Thomson Reuters via Review Locator of Thomson Reuters.
Subject Areas: Accounting, Banking and Finance, Islamic Banking, Economics, Marketing, Behavioral Economics, Business Strategy, Decision Analysis, Entrepreneurship and Innovation, Decision Making, Operations Management, Organizational Behavior, Stochastic Models and Simulation, Information Systems, Human Resource Management, Supply Chain Management.
ISSN: 2410-8537(Online)
ISSN: 2074-2967(Print)
Online Since 2017
2 Issues per Year

South Asian Journal of Management Sciences, Iqra University is licensed under a Creative Commons Attribution 4.0 International License.
Editorial Board
Editor-in-Chief
Dr. SYED ALI RAZA
IQRA UNIVERSITY
Associate Editor
Dr. Munawar Javed
IQRA UNIVERSITY

Advisory Board
Ramayah Thurasamy, Universiti Sains Malaysia, Malaysia
Dr. Rameshwar Dubey, Liverpool John Moores University, United Kingdom
Dr. Muhammad Kabir Hassan, University Of New Orleans, United States
Dr. Shawkat Hammoudeh, Drexel University, United States

Author Guidelines
Reporting standards
Authors of original research should present an accurate account of the work performed as well as an objective discussion of its significance. Underlying data should be represented accurately in the paper. A paper should contain sufficient detail and references to permit others to replicate the work. Fraudulent or knowingly inaccurate statements constitute unethical behavior and are unacceptable.
Data Access and Retention
Authors are asked to provide the raw data in connection with a paper for editorial review, if practicable, and should in any event be prepared to retain such data for a reasonable time after publication.
Originality and Plagiarism
The authors should ensure that they have written entirely original works, and if the authors have used the work and/or words of others that this has been appropriately cited or quoted.
Acknowledgement of Sources
Proper acknowledgment of the work of others must always be given. Authors should cite publications that have been influential in determining the nature of the reported work.
Authorship of the Paper
Authorship should be limited to those who have made a significant contribution to the conception, design, execution, or interpretation of the reported study. All those who have made significant contributions should be listed as co-authors. Where there are others who have participated in certain substantive aspects of the research project, they should be acknowledged or listed as contributors. The corresponding author should ensure that all appropriate co-authors and no inappropriate co-authors are included on the paper, and that all co-authors have seen and approved the final version of the paper and have agreed to its submission for publication.
Disclosure and Conflicts of Interest
All authors should disclose in their manuscript any financial or other substantive conflict of interest that might be construed to influence the results or interpretation of their manuscript. All sources of financial support for the project should be disclosed.
Fundamental errors in published works
When an author discovers a significant error or inaccuracy in his/her own published work, it is the author s obligation to promptly notify the journal editor and cooperate with the editor to retract or correct the paper.
Copyright and License
The authors reserve copyright on any open access article in the South Asian Journal of Management Sciences. Authors agree to grant the permission and license to publish articles and identify themselves as the original publisher. As long as articles integrity is maintained, original authors are mentioned, citation details are updated, and publishers are identified, authors grant a third party right to use the article freely. These terms and conditions of article publishing are formalized by Creative Commons Attribution License 4.0. In addition to the South Asian Journal of Management Sciences copyright policy, some journals also follow an open data policy or Creative Commons CC0 1.0. If an author is prohibited from being the copyright holder, then minor variations are required. In this case, the articles' copyright line and license statement will be adjusted accordingly. However, authors requiring any variations must inform the South Asian Journal of Management Sciences during or right after submitting articles, as changes to the copyright cannot be made after the publication.
Patron in Cheif
Mr. Hunaid Hussain Lakhani
Founder Chancellor, Iqra University
Open Access and Article Processing Charge (APC)
Articles published in the South Asian Journal of Management Sciences are open access and readily available. There is no article processing charge for the authors even after peer review acceptance. Submitted papers must be formatted in good and understandable English.
Publication Ethics
Borders and Territories
Disputes over borders and territories may have a precise significance for authors describing their research work or in the correspondence address and should be respected. Publishing content is the editorial team's decision, and where there is any potential, dispute, or complaint, the team will attempt to find an immediate solution that satisfies the officials involved. South Asian Journal of Management Sciences stays neutral regarding the jurisdictional claims in published maps and organizational affiliations.
Publication Ethics Statement
South Asian Journal of Management Sciences follows the publication ethics launched by the committee in publication ethics. The code of conduct and practice guidelines are wholly followed. The peer-review process is followed by various strict ethical policies and standards that ensure the high quality of scientific work in academic and scholarly publishing. Plagiarized content is not tolerated. Unfortunately, cases of plagiarism, data falsification, model manipulation, and authorship discredit, and the like issues do arise. The editorial team takes such issues very seriously as the team is trained to proceed in such cases with no tolerance policy.
Any facts that might be connected to the conflicts of authorships must be disclosed before the submission.
Authors should present the correct findings and data that also includes an objective discussion of the findings' significance.
Data and methods mentioned in the research need to be presented in sufficient detail to be easily used for future research.
The authors must publically place raw data before submitting the manuscript. Authors need to have a set of raw data in case the editorial team requests it. Moreover, authors need to ensure appropriate measures are taken back after the publication.
Simultaneous submission of manuscripts in more than one journal is strictly prohibited.
Republication of novel content is not tolerated. (For instance, English translation of a manuscript already published in any other language).
If authors found errors and inaccurate content after the publication, they must inform the editorial team to take appropriate action. In this case, refer to the policy of publishing addenda and corrections.
The submitted manuscript should not contain any information that is already published in another journal. If the already published image of the model is used, it must obtain permission and copyright from the original author and publisher.
Any data manipulation, fabrication, and plagiarism are not tolerated.
Plagiarism is strictly non-acceptable in the South Asian Journal of Management Sciences.
Replication of text, images, models, and data from any source or your previous publication without citing any credit is not allowed.
Reusing of text must be between quotes and properly cited.
The inspiration for the structure of language from a published paper must be cited.
In any case, plagiarism is detected after publication; resubmission of an updated correction is required.
Manipulation and readjustment of images that lead to misinterpretation of an existing idea are not acceptable.
Identification of image manipulation during the reviewing process will lead to the rejection of the paper. However, image manipulation after publication leads to the retracting of paper.
Authors are expected to obey ethical publication policies. In any case of misconduct, the in-house editors will investigate and contact the author's institution. If evidence is found, appropriate action would be taken to correct and retract the publication.
Citation Policy
Authors must ensure the source from where the material is taken and correctly cite it with appropriate permission.
Authors should not be engaged in excessive self-citation of their previously published work.
It is not allowed to favorably cite friends, peers, and institutions' publications.
Publishing advertisements and advertorial material for a monetary benefit are strictly restricted.
Policies
The South Asian Journal of Management Sciences (SAJMS) is a free online multidisciplinary journal in the field of management sciences with no publication/review fee. The goal of SAJMS is to publish intuitive, original and impactful research in business.
SAJMS welcomes submissions of research manuscripts in any sub-domains of business studies emphasizing on management implication.
Peer-review process
The peer review process facilitates a fair hearing for a manuscript among members of the scientific community. More practically, it helps editors decide which manuscripts are suitable for their journals. Peer review often helps authors and editors improve the quality of reporting.
We believe that manuscripts submitted to our journal are privileged communications that are authors' private, confidential property, and authors may be harmed by premature disclosure of any or all of a manuscript's details.