South Asian Journal of Management Sciences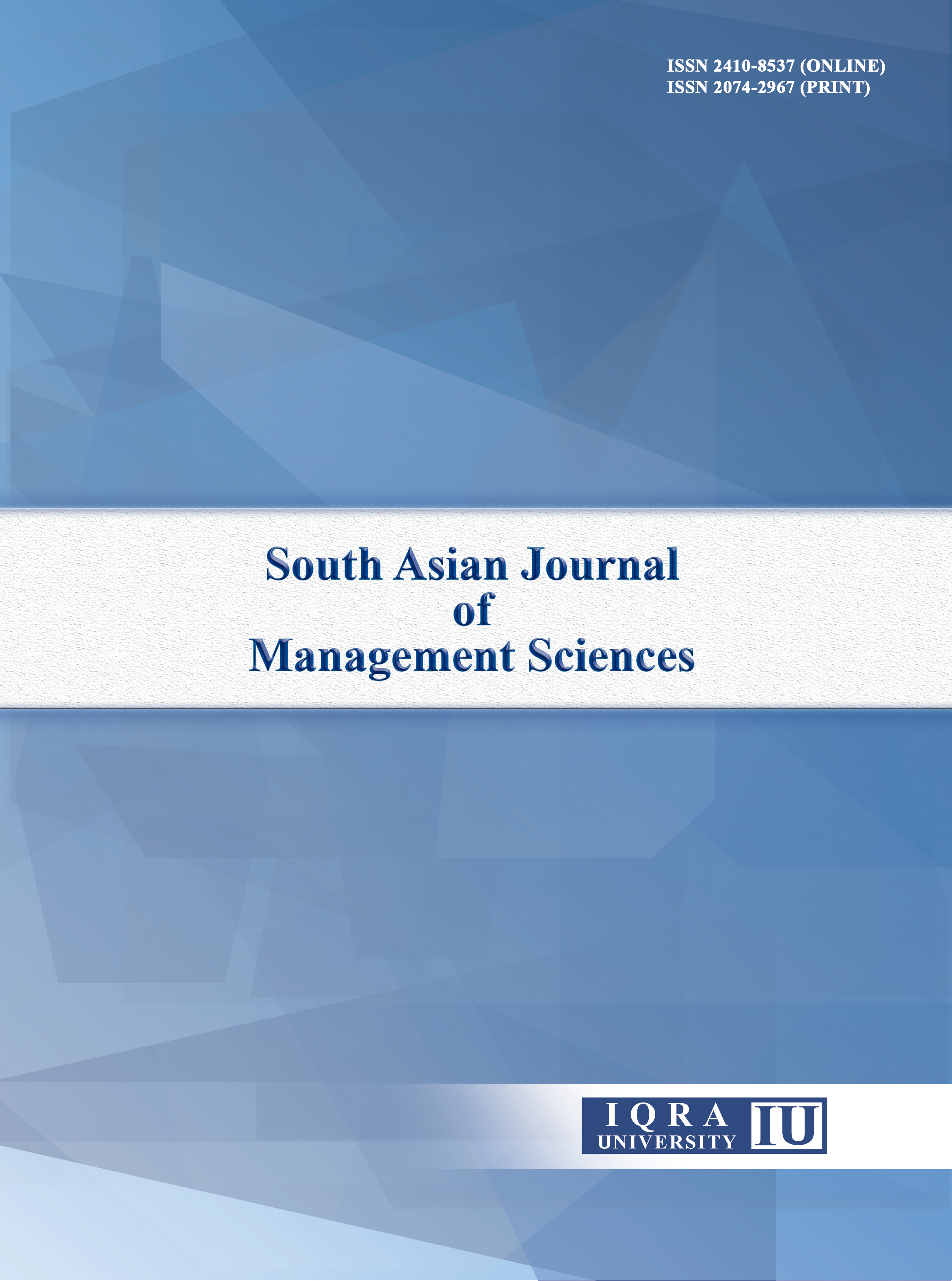 The South Asian Journal of Management Sciences (SAJMS) is a blind peer refereed journal published bi-annually by Iqra University. The journal recognizes the growing involvement of regional issues in management sciences within the larger context of globalization and international business arena. It, therefore, aims to provide an opportunity and a forum to communicate relevant and current issues in the area of business management and its allied sciences including emerging trends and their application to and implication for the global business community. The papers which are invited are based on Original Article, Invited Review, Short Report and Case Study. The papers/articles submitted are reviewed by the anonymous reviewers of Thomson Reuters via Review Locator of Thomson Reuters.
Subject Areas: Accounting, Banking and Finance, Islamic Banking, Economics, Marketing, Behavioral Economics, Business Strategy, Decision Analysis, Entrepreneurship and Innovation, Information Systems, Decision Making, Operations Management, Organizational Behavior, Stochastic Models and Simulation, Information Systems, Human Resource Management, Supply Chain Management.
ISSN: 2410-8537(Online)
ISSN: 2074-2967(Print)
Online Since 2017
2 Issues per Year

South Asian Journal of Management Sciences, Iqra University is licensed under a Creative Commons Attribution 4.0 International License.
Editorial Team
Dr. Syed Ali Raza
Editor-in-Chief
South Asian Journal of Management Sciences

Editorial Board
Muhammad Shahbaz, Comsat, PK
Keith Jackson, SOAS, UK
Maria Alberta Oliveira, ISMAI, Maia University Institute, PT
Carlos Santos, Portuguese Catholic University, PT
Cyril Peter, Wellington Institute of Technology, NZ
Marija Ham, University of Osijek, HR
Liao Jing, Massey University, NZ
Shehnaz Tehseen, Universiti Kuala Lumpur, MY
Omer Farooq, Kedge Business School, FRA
Puah Chin Hong, University Malaysia Sarawak, MY
Abdul Raziq, BUITEMS, PK
Syed Tehseen Jawaid, AERC, University of Karachi, PK
Wan Zahari Wan Yusoff, University Tun Hussein Onn Malaysia, MY
Anushree Tandon, Amity University, IND
Sajjad Zaheer, State Bank of Pakistan, PK
Faisal Rana, Bursa Orhangazi Üniversitesi, TY
Pok Wei Fong, Universiti Tunku Abdul Rahmani, MY
Khaw Lee Hwei, Universiti Utara Malaysia, MY
Azira Binte Abdul Adzis, Universiti Utara Malaysia , MY
Sireethorn Civilize, Securities Exchange and Commission, TH
Sameh M. Reda Reyad, Higher Technological Institute, EG
Mohammed N. Chaker Ajman, University of Science and Technology, UAE
Luu Trong Tuan, Asian Institute of Technology, TH
Taimur Sharif, ALHOSN University, UAE
Jingjing Yang, Jiangxi Normal University, CN
Enrico Ivaldi, University of Genoa, IT
Chun Chu Liu, Chang Jung Christian University, TW
Omar Khalid Bhatti, IQRA University, PK
Tariq Jalees, PAF KIET, PK
Amber Thanwarani, Nanyang Technological University, SG

Author Guidelines
Reporting standards
Authors of original research should present an accurate account of the work performed as well as an objective discussion of its significance. Underlying data should be represented accurately in the paper. A paper should contain sufficient detail and references to permit others to replicate the work. Fraudulent or knowingly inaccurate statements constitute unethical behavior and are unacceptable.
Data Access and Retention
Authors are asked to provide the raw data in connection with a paper for editorial review, if practicable, and should in any event be prepared to retain such data for a reasonable time after publication.
Originality and Plagiarism
The authors should ensure that they have written entirely original works, and if the authors have used the work and/or words of others that this has been appropriately cited or quoted.
Acknowledgement of Sources
Proper acknowledgment of the work of others must always be given. Authors should cite publications that have been influential in determining the nature of the reported work.
Authorship of the Paper
Authorship should be limited to those who have made a significant contribution to the conception, design, execution, or interpretation of the reported study. All those who have made significant contributions should be listed as co-authors. Where there are others who have participated in certain substantive aspects of the research project, they should be acknowledged or listed as contributors. The corresponding author should ensure that all appropriate co-authors and no inappropriate co-authors are included on the paper, and that all co-authors have seen and approved the final version of the paper and have agreed to its submission for publication.
Disclosure and Conflicts of Interest
All authors should disclose in their manuscript any financial or other substantive conflict of interest that might be construed to influence the results or interpretation of their manuscript. All sources of financial support for the project should be disclosed.
Fundamental errors in published works
When an author discovers a significant error or inaccuracy in his/her own published work, it is the author s obligation to promptly notify the journal editor and cooperate with the editor to retract or correct the paper.
Policies
The South Asian Journal of Management Sciences (SAJMS) is a free online multidisciplinary journal in the field of management sciences with no publication/review fee. The goal of SAJMS is to publish intuitive, original and impactful research in business.
SAJMS welcomes submissions of research manuscripts in any sub-domains of business studies emphasizing on management implication.
Peer-review process
The peer review process facilitates a fair hearing for a manuscript among members of the scientific community. More practically, it helps editors decide which manuscripts are suitable for their journals. Peer review often helps authors and editors improve the quality of reporting.
We believe that manuscripts submitted to our journal are privileged communications that are authors' private, confidential property, and authors may be harmed by premature disclosure of any or all of a manuscript's details.